2021 ABCRA Annual General Meeting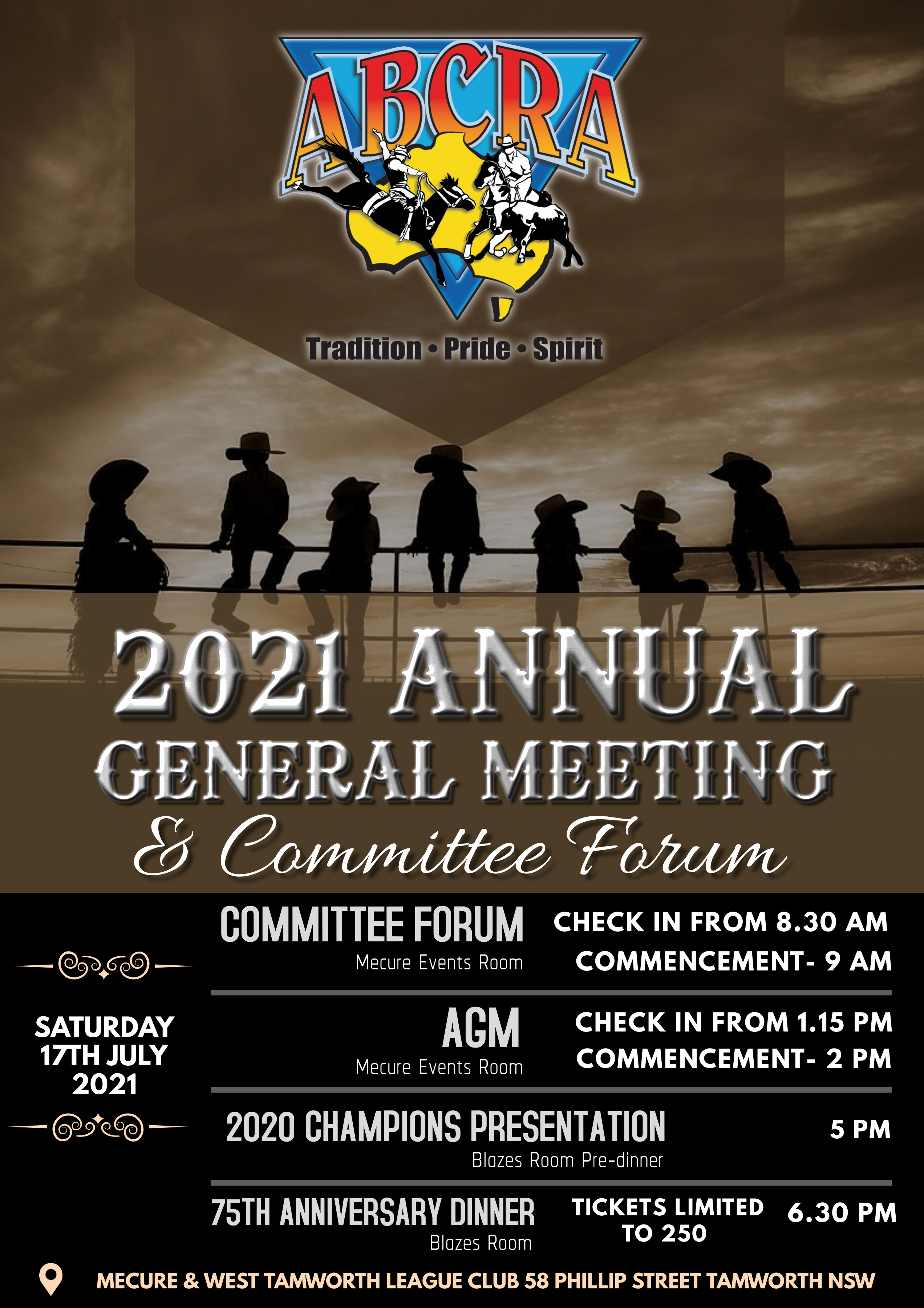 NOTICE
ANNUAL GENERAL MEETING 2021
Notice is hereby given of the Annual General Meeting of The Australian Bushmen's Campdraft and Rodeo Association Limited ABN 82 002 967 142 which will be held on SATURDAY 17th JULY 2021 at the Mecure Events Room (Kent St entrance) West Tamworth League Club 58 Phillip Street West Tamworth NSW 2340 at 2 pm.
Register HERE for ABCRA AGM Attendance
NOTES:
REGISTRATION:
Each person who proposes to attend is required to notify ABCRA of their intention to attend and contact details at least 8 days before the meeting (9th July 2021).
Physical meeting attendance:
Registration for physical attendees will only be accepted via online submission
Those attending the meeting in person will be required to comply with social distancing protocols and to register their contact details for tracing purposes. The venue must comply with COVID maximum capacities, and as such, first preference will be given to voting members for physical attendance.
Audio Visual Attendance
Any person who is intending to participate in the Annual General Meeting via audiovisual technology, including those entitled to vote, must register online
no later than eight (8) days prior to the meeting (4 pm 9/7/21).
Registered persons will be issued with the meeting link and relevant information prior to the meetin
PERSONS ENTITLED TO VOTE:
The persons entitled to attend and vote at the 2021 Annual general meeting are

each Member of the Board at the time of the commencement of that general meeting;
two delegates appointed by each financial Committee;
the two delegates appointed by each Zone pursuant to rule 28(b);
the two (2) delegates appointed by each Members Council pursuant to constitution rule 21; and
each life member of the Association.
INELIGIBILITY TO ATTEND:
Any person with any form of COVID-19 symptoms or who has been in contact with any such person during the previous 14 days should not attend the meeting.
Pursuant to guidelines issued by ASIC if any person who is entitled to vote at the meeting is unable to attend by reason of that person's health, public health directions then in force or restrictions on travel from or to that person's home State then arrangements will be made for that person to attend the meeting via virtual technology.

PROXY VOTING: (form will be available within 30 days of the meeting date)
Voting Proxies will only be accepted on the official form. Proxies must be signed and received by Head Office no later than 4 pm Thursday 15th July 2021. Proxies may be returned via email jo@abcra.com.au or PO BOX 5313 South Tamworth NSW 2340.
DATED: 25th May 2021
By Order of the Board
Craig Young
Company Secretary / Executive Officer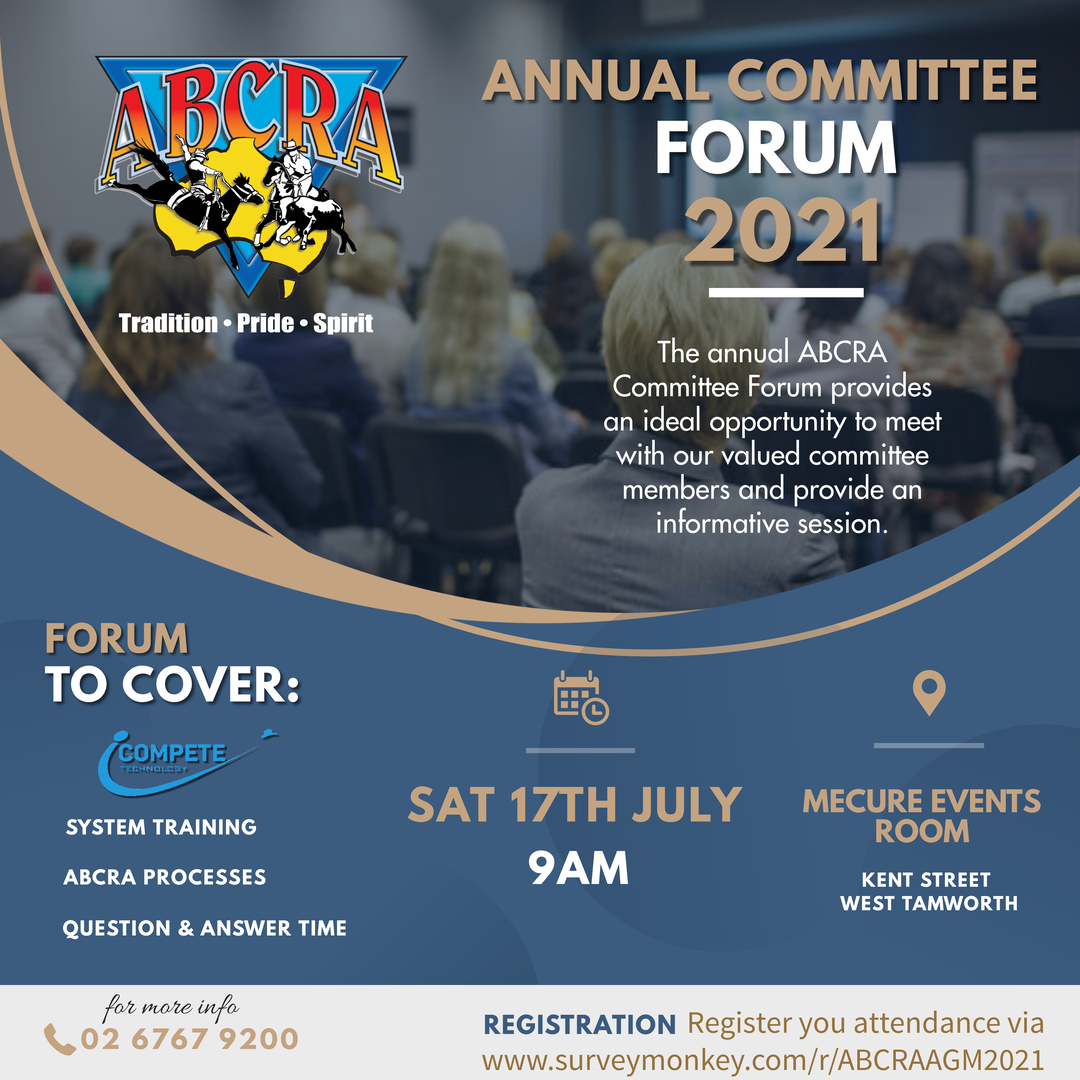 Please register your attendance and submit any content you would like addressed by Monday 5th July 2021 via the link below.

5 pm Saturday 17th July 2021
Pre- dinner drinks & 2020 Awards presentation

Blazes Room
Tamworth West League Club Phillip Street

Presentation registration of attendance
by 4 pm 9th July 2021 via the link below.

Ticketed anniversary dinner commences at 6.30 pm

Dinner tickets are limited & available via https://www.trybooking.com/BRSGB
---
ABCRA 75th Anniversary Dinner
The ABCRA is proud to be celebrating its 75th anniversary in 2021. To mark this momentous occasion, we will be hosting a formal dinner after the Annual General Meeting from 6 pm Saturday 17th July 2021
Date: Saturday 17th July 2021 6.30 pm

Venue: Tamworth West League Club 58 Phillip Street West Tamworth

Tickets: 2- course meal alternate drop $65/person
Main:
Scotch fillet
cooked medium with honey, thyme and mustard glaze w/ roasted duck fat potatoes and buttery seasonal veg or
Portuguese Spiced Chicken
w/ mashed potato, broccolini & pineapple salsa

Dessert:
Lemon Meringue Pie
or
Honey & Vanilla bean Panna cotta with toffee praline
Tickets are limited to 250 patrons, ticket bookings are available from available from 9 am Wed 16th June until 27th June or sold out
---
Need accommodation for the ABCRA AGM & associated events on Saturday 17th July 2021?

ABCRA Members can enjoy a 10% DISCOUNT by mentioning the code "ABC" upon booking.

Discount bookings can only be obtained by calling the team at Mecure directly on 02 6765 1200